We can't have a baby shower without cake right? Before you start drooling over chocolate (um...because that's what I am doing!), this is no ordinary cake. In fact, this is the type of cake you WANT to have because it doesn't have anything in it that will crash your diet.
Diaper Cakes are a chic, unique way to shower the mom-to-be with a gift that she'll actually use. They also look gorgeous on tables as centerpieces. Two of my very good friends threw me a baby shower for my son and made mini diaper cakes for the tables. From speaking to them, it takes a LOT of time, effort, and creativity to make just one diaper cake.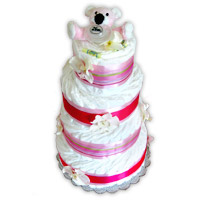 Pamela at
Happy Panda
sent me a stunning
Pretty in Pink diaper cake
for my shower. I remember early on when she first launched her company and how unique the idea was (and still is) to offer clothing for babies that don't fit the conventional store-bought sizes. Her brand exists to "help dress bigger babies." My son has ALWAYS worn a size bigger than his age. He's almost 2 1/2 and already wearing some 3T outfits. She offers a design system that helps you find a better fit when you shop by your child's age. Her clothing is designed with environmentally safe fabrics and inks and the best part is that they don't have itchy, annoying tags on them!
Pamela's
business has grown tremendously and her boutique now offers diaper cakes. Each diaper cake features 70-75
Pampers Swaddlers
in size 1 and 2, a
PaciPlushie
of your choice, a
Happy Panda tagless gift set
in size 0-3 months, a
Fabulous Design
lap t, pants, and hat, travel-sized
Johnson's
products (baby lotion, baby powder, baby wash, baby shampoo),
Desitin
diaper rash cream, and 4
Germ X
packets. By looking at the cake you wouldn't even know all of that is in there because she does an amazing job of making it look like a cake. But once you open it up, all sorts of surprises start coming out!
What's great about her diaper cakes is that you can customize them in so many ways. From the ribbon colors to the outfits and
PaciPlushie
, you'll find that whether the gender of the baby is known or not, you'll still be able to give a gift that's personal and unique to the mama-to-be. Right now she's offering a
Happy Panda Holiday diaper cake
complete with an adorable red or green snappy (onesie).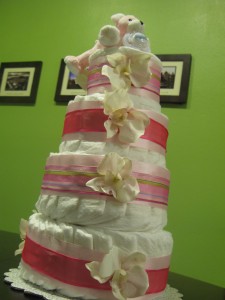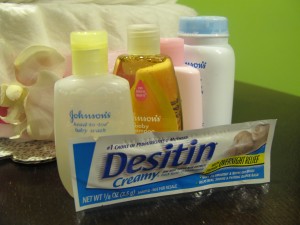 I truly appreciate gifts that are both lovely in appearance and functional. And that is exactly what a diaper cake is. The
PaciPlushie
is perfect for babies who a. need to soothe themselves and b. keep losing or dropping them. They're also just adorable. You already know about
Pamela's
super cute and practical clothing. And diapers....those will last at least a week!
Pampers Swaddlers
are super soft and smell good. And....they're comfy for new babes (my son used them until he grew out of them). Do you want to know the best part of the entire diaper cake? The
Germ X
packets! Just say Boo to the Swine Flu (and I'm only half joking!).
Diaper cakes
run approximately $110 to $124 and are value priced (especially if you add up the cost of purchasing all of those items individually).
Pamela
, thank you! Your diaper cake looks good enough to eat! Actually...I'm going to be sad to unwrap it.
Pamela
has been very generous to many of us bloggers. She has thrown many a
Cyber Baby Shower
and she is just a fabulous woman!