Babies love to be swaddled. I know that because a. I'm a mom and b. I'm a NICU nurse. There is a lot of discussion about how to swaddle, how long to swaddle, and if you should swaddle...particularly in light of SIDS. According to my pediatrician many newborns sleep longer when swaddled tightly. There is a also a safe way to swaddle (meaning avoiding loose blankets). One of the things we do is swaddle our babies from the axilla down (in other words, leaving the arms exposed) and ensure that it's nice and tight. In order to do that, we need a larger type of blanket like those from Aden + Anais. I first learned about their muslin wraps when my son was a baby. He was born in the summer and I knew that most of the blankets we received were too warm and too small to swaddle him safely. I looked at these in a boutique and knew that they were perfect for my summer baby.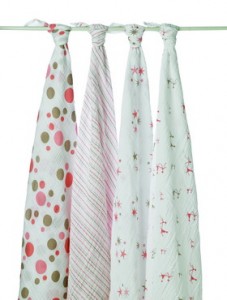 One of my pediatrician's recommendations is to also use cotton blankets for swaddling. Babies can overheat (especially if you also dress them in footed onesies and such) which is a risk factor for SIDS. Muslin is a light, breathable fabric that is used in Aden + Anais wraps. The fabric allows air to flow through the material, thereby allowing a baby's body temperature to adjust naturally while still ensuring warmth. I used these with my son because he only slept well when swaddled.
So how do you wrap a baby? The site has a really good description (although I've long ago perfected the fine art of wrapping a baby).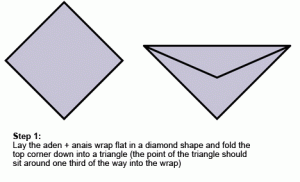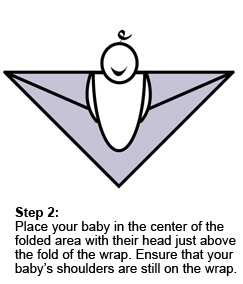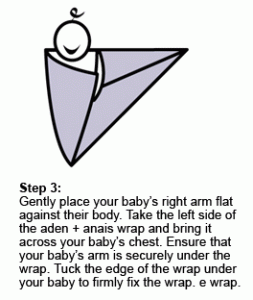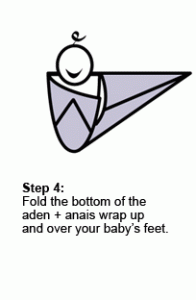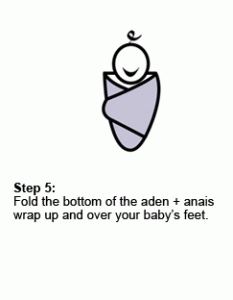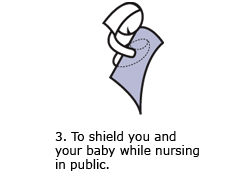 The muslin wraps are perfect for swaddling because they're bigger than most blankets on the market. They allow a baby to be wrapped securely without worrying the wrap will come undone and the fear of loose blankets. And one more reason why I like these wraps? They're big enough to provide some coverage during nursing! Check out all the other uses for Aden + Anais' muslin wraps.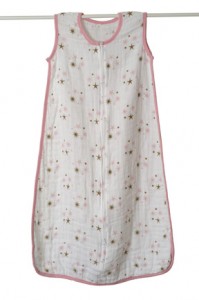 Once your baby gets to the point where they don't want to be swaddled anymore, I like to use sleep sacks or wearable blankets. New for Aden + Anais are their muslin sleeping bags. They're made from 100% cotton muslin (just like their wraps), feature an inverted zipper for easy diaper changes, and are quilted to provide cushion and warmth. They're soft, breathable and eliminate the worries of loose blankets...especially when babies start to move and roll over. Just put them over your baby's pj's in place of blankets. My son used wearable blankets when he started to move and roll over. It's recommended that these be used when a baby is 3 months old or older.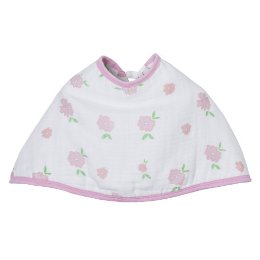 Also new to Aden + Anais are their line of Burpy Bibs (which aren't even on the site yet!). Again, they're made from the same soft breathable muslin (four layers to be exact) as their wraps and sleeping bags. They're also versatile since you can use them as both a burp cloth and a bib. They're big (just like their muslin wraps) and you convert them to a bib by snapping them together. Let's just hope our little girl likes bibs more than our son!
Lastly, co-founder Raegan Moya-Jones just released a book about swaddling called Swaddle Love. With much concern and fear over SIDS, parents are turning away from swaddling, not recognizing the tremendous benefits it offers to newborns. If you want to get any sleep at all, I highly suggest you think about swaddling your baby...just do it safely! The book is beautifully illustrated and highly informative.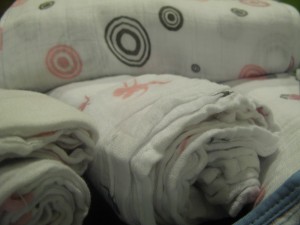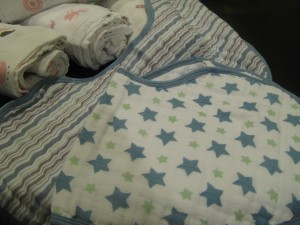 Because I am a huge advocate for safe sleep, I'll leave you with some tips on safe sleeping:
1. Always put your baby to sleep on his/her back
2. Do not overheat baby (either via heat in the home or by dressing too heavily)
3. Always put your baby in a safe place to sleep (i.e. a crib or bassinet) (My opinions on co-sleeping, which we did with my sonm will be reserved for another post).
4. Breastfeed, if possible
5. Consider using a pacifier at bedtime
6. Do not smoke or allow anyone to smoke near your baby
7. Do not put stuffed animals, loose blankets, etc. in sleep space
8. Consider a wearable blanket